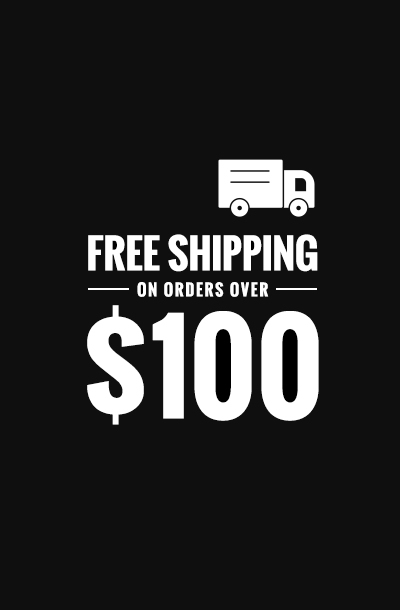 Zipdiz BLACK FRIDAY Ninja Slackline Kit with Full Accessories Ninja Slider Slackline Pulley Spring Brake Colorful Fun For The Whole Family 2024 New (up to 250lbs) (RED)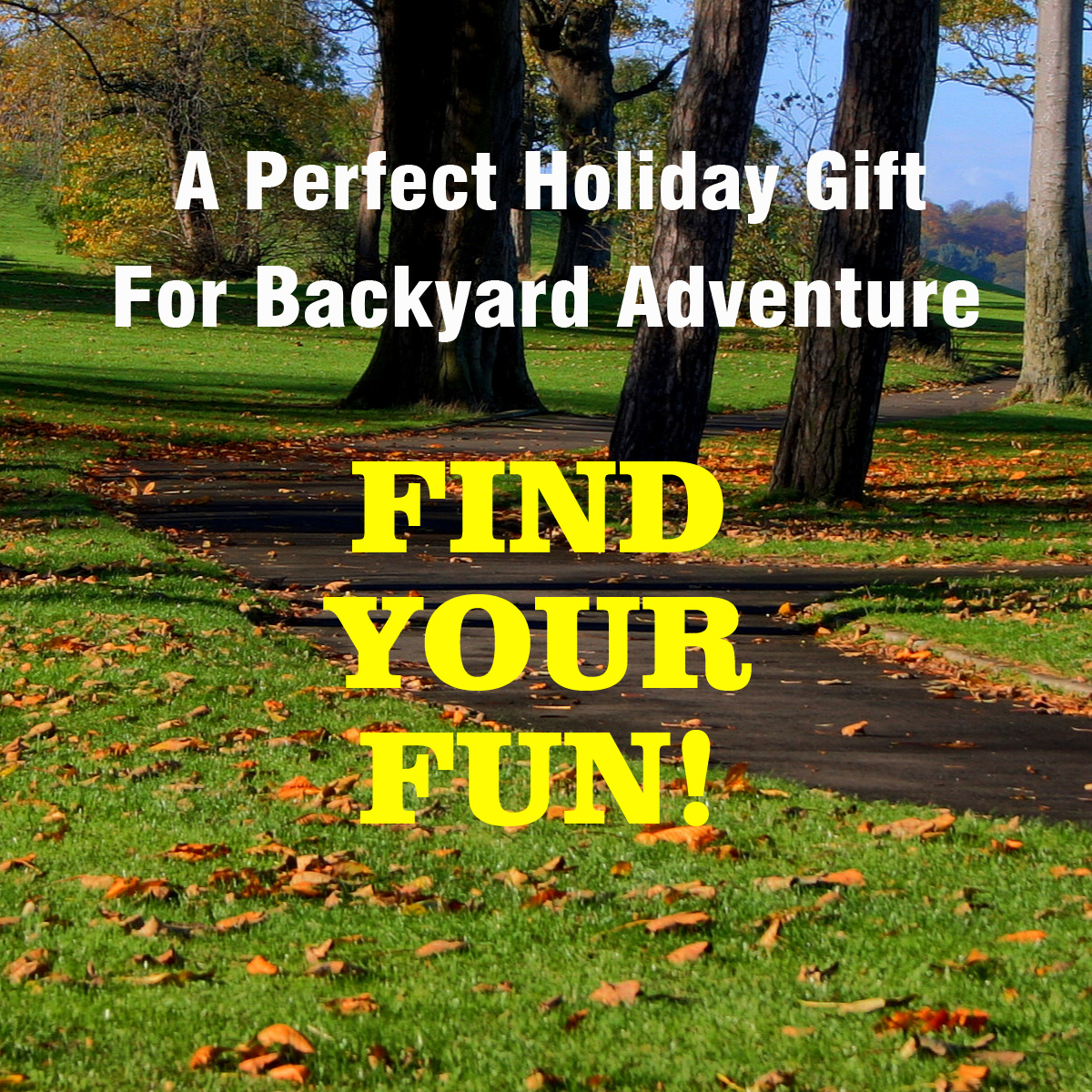 BLACK FRIDAY DEAL! ZIP along your Ninja Line to advance to the NEXT LEVEL! This BRAND NEW obstacle will challenge your ninja skills! Now that you've mastered the basic Ninja Warrior Course, it's time for you to ADVANCE to the NEXT LEVEL! Introducing the Fofana Ninja Slider Pulley. It's a BRAND NEW WAY TO NINJA. You can now ZIP along your Ninja Slackline and train like your TV heroes. Build your skills and strength to conquer this new dynamic challenge. Ninja Kids LOVE it, and even forget about electronics (sometimes)! Mix it up and find your favorite ninja course attachments to train with.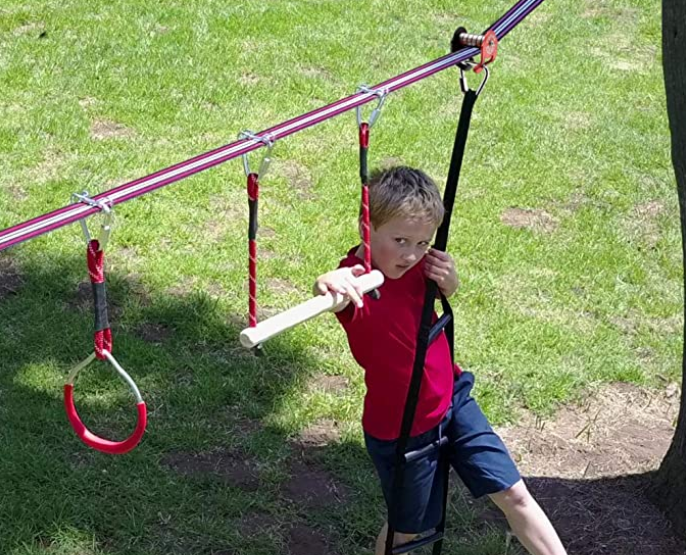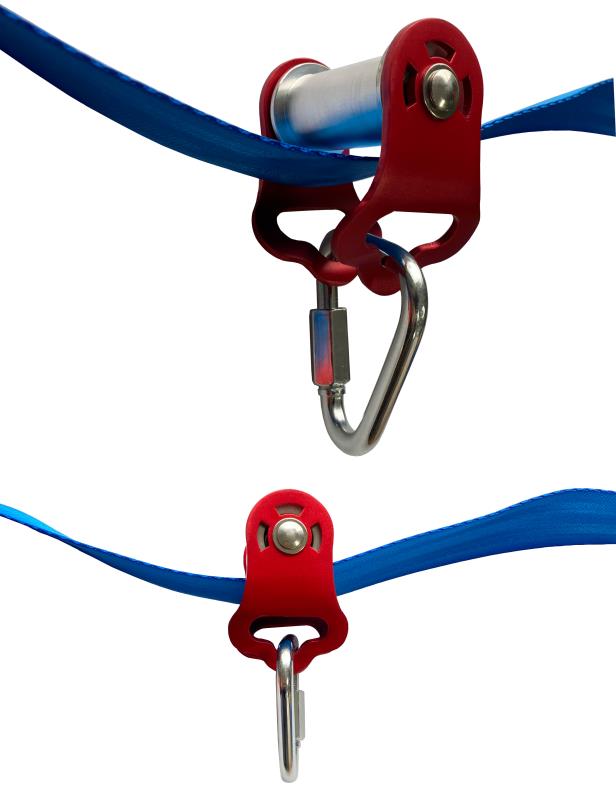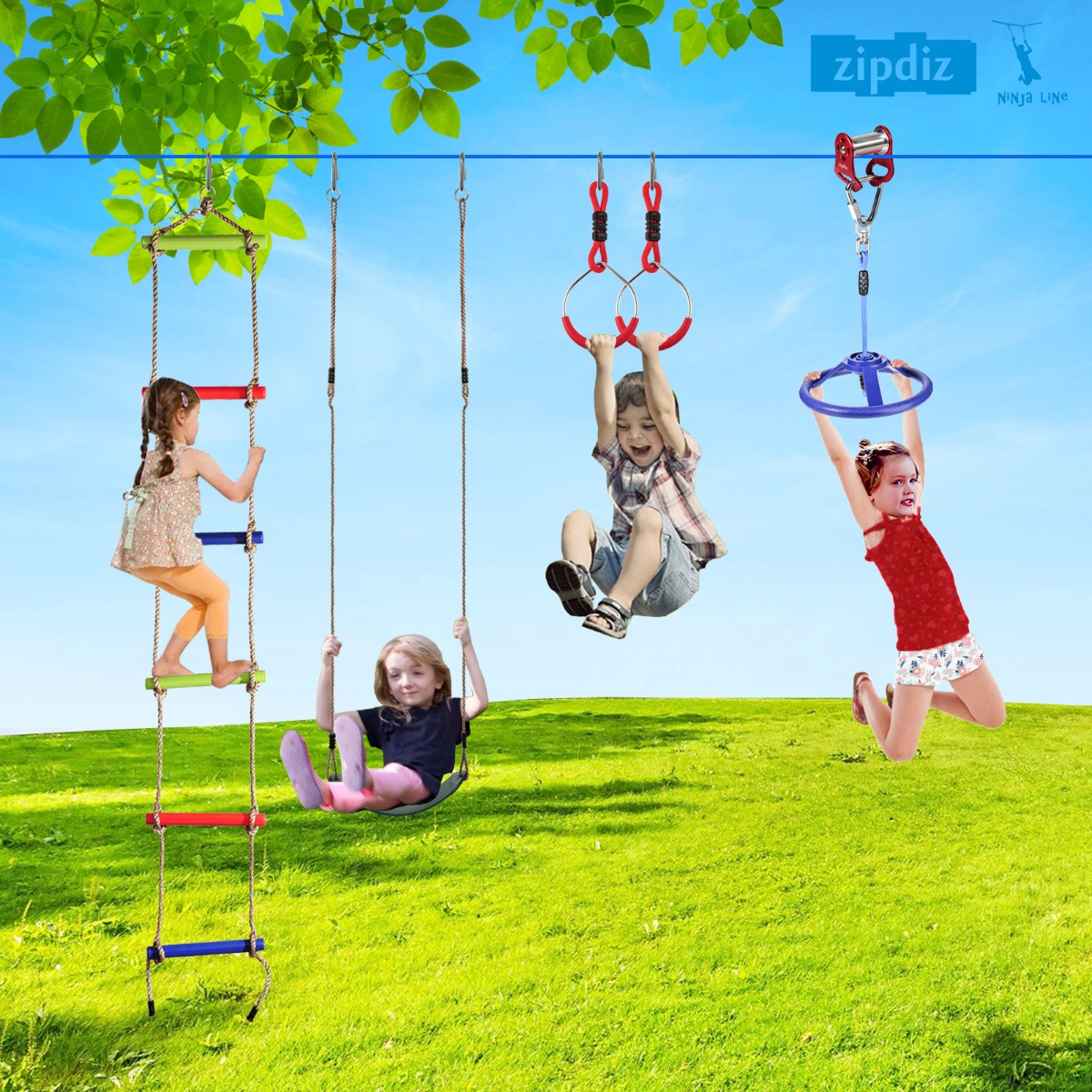 Upgrade your Ninja Training Today!
Special Price
$124.74
was
$389.64
Buy 100 for

$124.40

each and save

0

%
Buy 1000 for

$84.80

each and save

32

%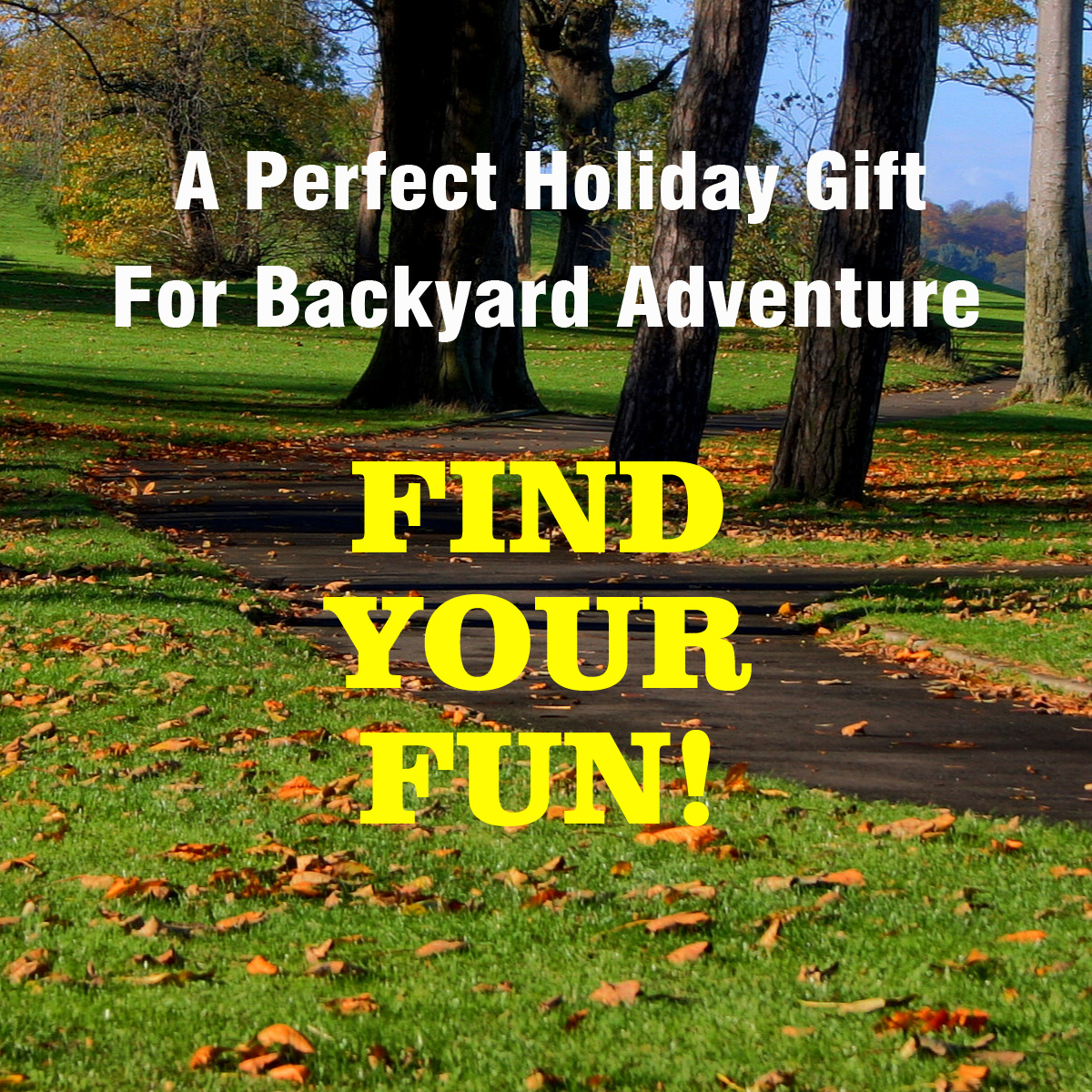 2024 Endless Fun - A completely new dimension of Ninja Course Obstacle. The Most Exciting and dynamic obstacle available. It's sure to get kids Outside and moving while they build Strength, Coordination, Confidence to become a Ninja. Safety First - We over-designed this Slider Pulley so you never have to worry about it breaking. It's been tested to over 6,000 pounds because we care about your safety. Recommended for ages 8 years old and older. Quick & Easy - Easily installs on any 2 inch wide Slackline Obstacle Course, but we recommend Ninja Slackline kits. Simply place on top of slackline, secure the triangle carabiner, and attach one of your ninja warrior accessories. Does not include slackline or other obstacles. Trolley and Spring Brake are specially designed for ninja slackline. They are made of high quality aluminium and stainless steel. The Trolley and Spring Brake offer a much more exciting experience and a gentle end to the ride which is ideal for Ninja Slackline. Spring Brake: Before installation of the Spring Brake, thread the Ninja Line, using the flat end, through the Spring Brake! After installation of the Ninja Line, select an appropriate position and length, and fix the brake by the S - end. Fixing Holder and Locking Carabiner: Select desired positions for obstacles. Shorter distances apart are recommended for smaller users (approximately 14 inches apart is a good place to start). First obstacle, typically the climbing ladder, should be placed 6-10 feet from tree on the main line. Do not attach obstacles to the anchor line. With Adjustable Holder on underside of line and holder flanges on top, pull line through Adjustable Holder to make a loop. Thread Locking Carabiner through the line loop. Do not attach locking carabiners to Adjustable Holder. Attach obstacles to Locking Carabiner in desired order. Locking Carabiner by twisting the nut closed. Ninja Trolley: Properly set up Ninja Slackline Follow the User Manual and Setup Guide for your ninja line obstacle course. Leave up to appropriate size of length at the beginning of the course for the Ninja Trolley obstacle. Ninja Trolley should be placed near the beginning of the obstacle course so the user can slide down the webbing toward the middle when the line sags due to the user weight. Line should be set so that the shortest user's feet hang about 15 inches from the ground while hanging from the obstacles at the middle of the webbing. Mount Ninja Trolley to Ninja Line Place Ninja Trolley over the top of the Ninja Line. Make sure the longer side of the Ninja Trolley hangs below the webbing line. Secure the Locking Carabiner onto the Ninja Trolley by threading it through the hole in each of the trolley side plates. Locking Carabiner must pass through both side plate holes or it may fall off. Attach a hanging obstacle to the Locking Carabiner and lock the securing nut closed. Make sure all connections are tight and perform the mandatory load stress test by using either a 250 lbs person or weight suspended from the line.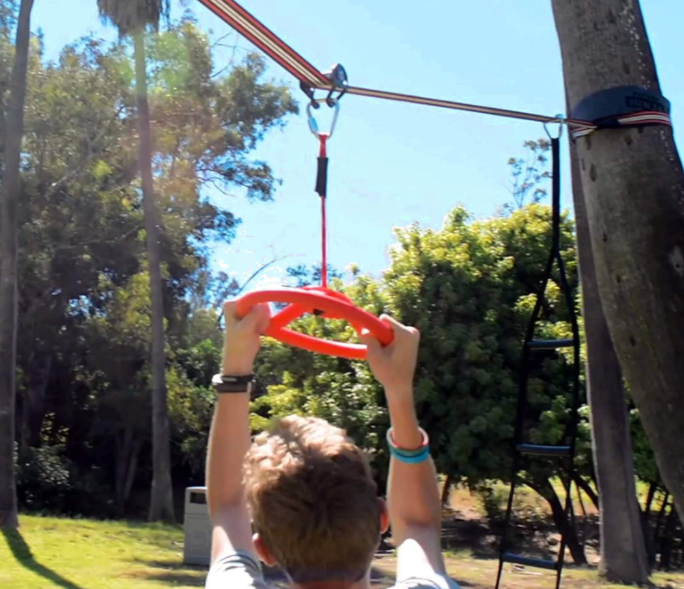 Ninja Slackline Kit to Bring in Super Fun for Kids, Let's get kids active! Ninja Slider Slackline Pulley. Selling points: - XL upgraded 82FT longer distance to have cooler and super fun. - Gentle and SAFE spring brake at the end point - Innovative design. Kits Include: Ninja Trolley x 1 Ninja Line x 1, L 82ft/25m, W 1.96in/5mm Ratchet Line x 1, L 6ft/1.85m (included) Swing x 1 Gymnastic Ring x 2 Ninja Wheel x 1 Climbing Ladder x 1 Spring Brake x 1 Locking Carabiner x 6 Adjustable Holder x 6 Tree Protector x 2 User Set Up Guide Craftsmanship - The side plates are forged from Aerospace grade Aluminum alloy for lightweight strength. The axle is precision machined from stainless steel for maximum strength. And the sealed ball bearings with OVERALL alluminium roller casing provide a super smooth ride!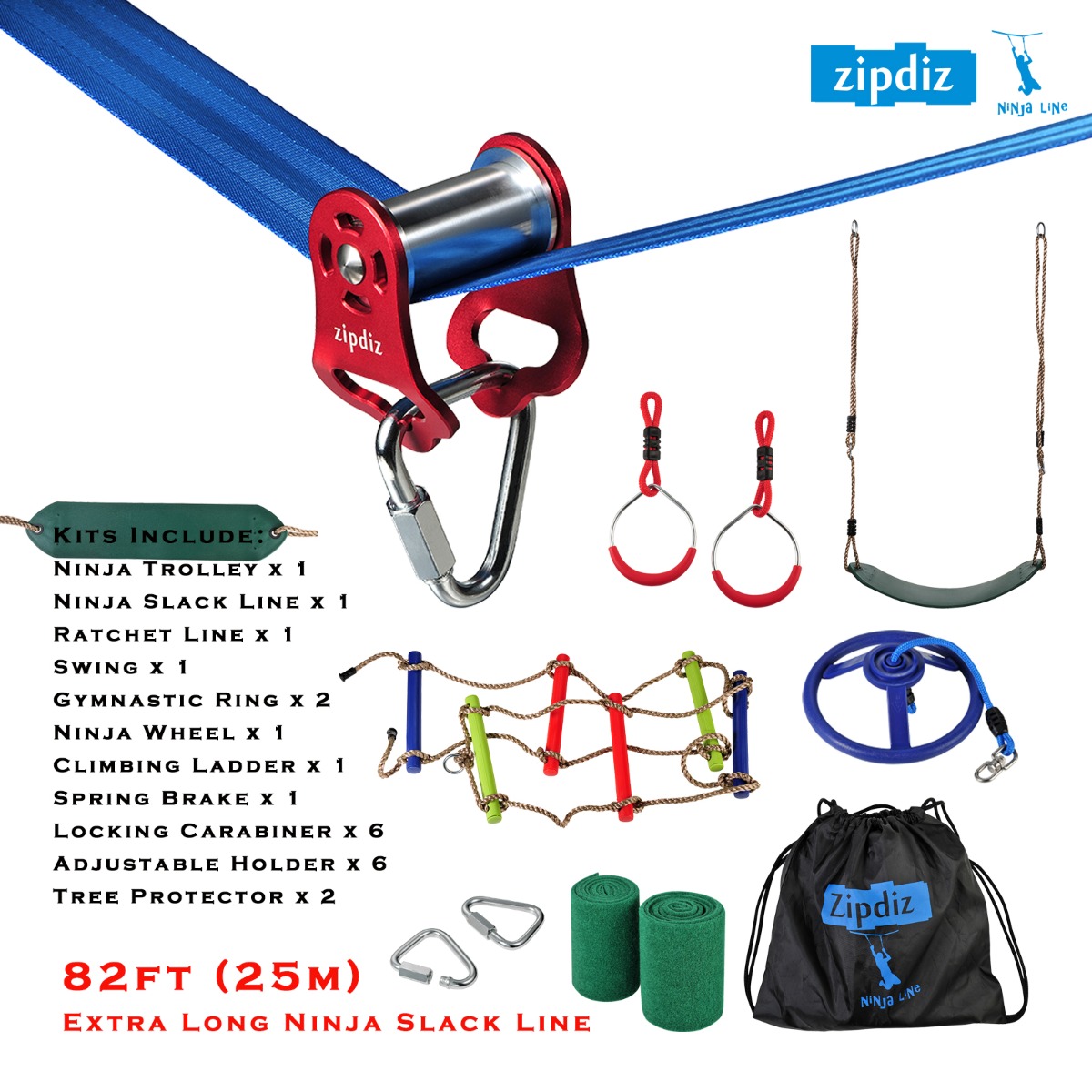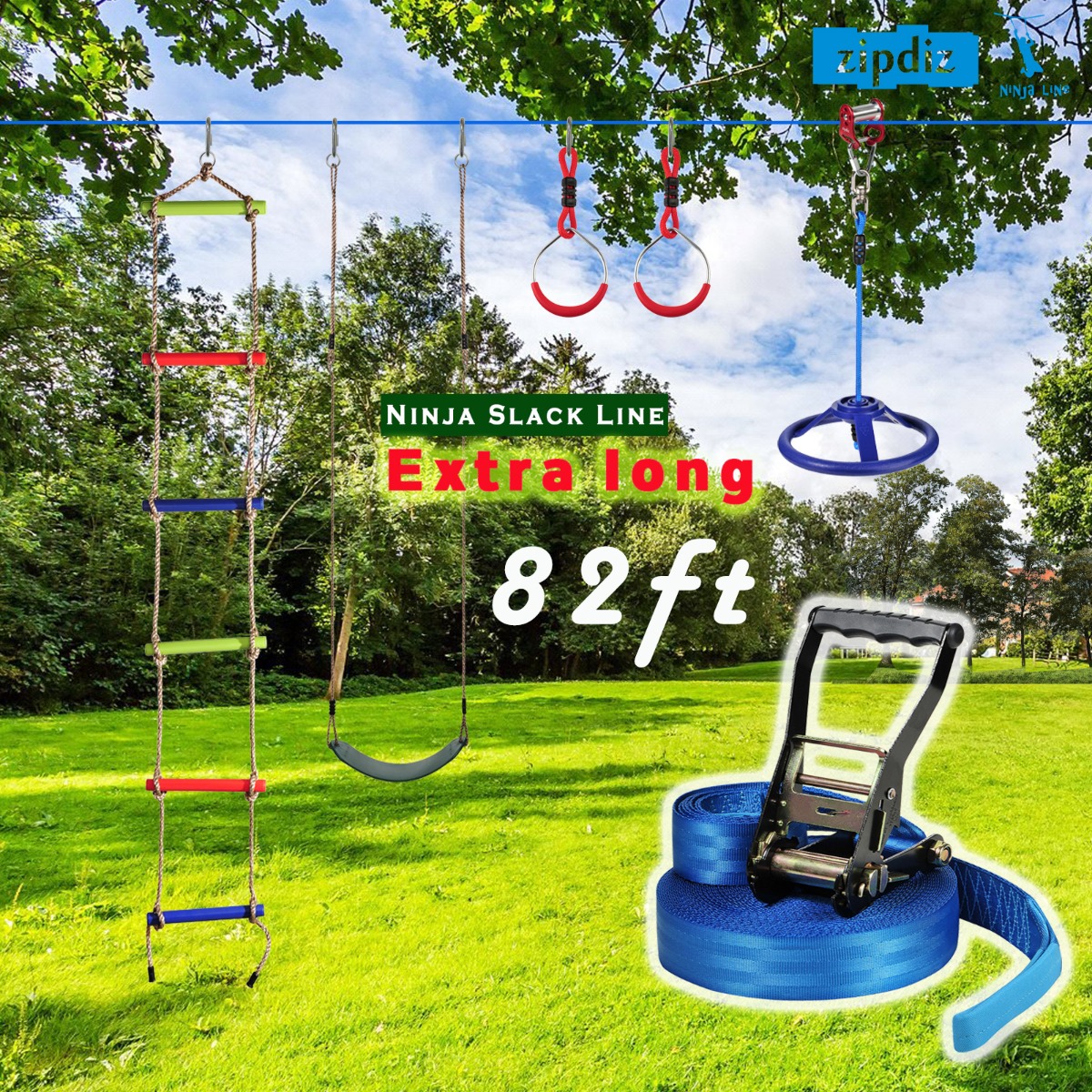 ATTENTION
 1、Please strictly follow the instructions and ensure the installation is solid.
 2、Kids under the age of 10 need to use zipline under the guidance of adults or guardians.
 3、Strictly follow kids and adults with a weight limit of 350 pounds.
 4、Heart disease and hypertension patients, pregnant women, please do not use products, in order to avoid accidents.
 5、Installation between two trees or ends is required, and there is a clear runway between the two without shelter, preferably with a slight slope in the middle of the runway.An end-to-end slope of 3-6%. 
OUR PROMISE
We promise to do the right thing. Over the years, every decision and product we make is focused on customers. Our goal is to bring more joy to those who believe in us. We should be responsible for doing the right thing and the right way.
The products we produce bring laughter to our customers, and we are truly proud of them. If our products cause trouble to our customers, we sincerely feel sorry and try our best to make up for our mistakes. Customer satisfaction is our eternal pursuit.
We promise never to exaggerate the quality of our products. We strictly test every product to ensure that it meets the safety standards and passes the quality certification.
We promise if there are any problems with our products, please contact us in the first time, or you can request a return or refund within 30 days of receiving the product, but please contact us before returning,you just pay for the return shipping. No strings attached.
After using our products,if you are satisfied with our products and services, please 5 stars, if you are not satisfied, please contact us at the first time, we will handle it for you and make you satisfied.
We stand by our promise.
About Shipping
1、In order to make your order to arrive more quickly and securely, we will deliver the goods within 24 hours after receipt of order payment. Please ensure that your order address is correct.
2、Before delivery, we will inspect and pack the goods to ensure that the goods received by our customers are in good condition. If there are any problems with the goods, please contact us at the first time.
 3、We offer free delivery service,express delivery is estimated to be delivered within 3-4 days.The shipping time during Holiday Season (Christmas etc) could be longer than usual time. Please add another 5-10 days as a delay.
 Note:if your shipping address is in a remote area, the express delivery service will require additional delivery costs, and we will not pay for this freight. So we will contact you for the first time, and you need to pay the freight, then we will deliver the goods.